home map
movie & theatre props
performance/Installation
MAVOtek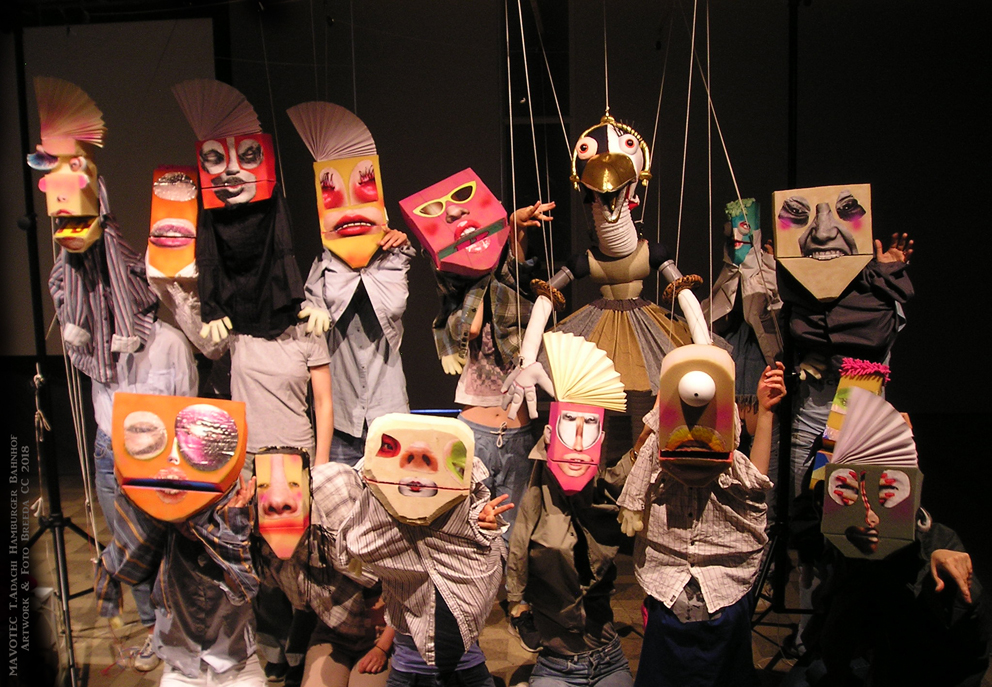 SFX Marionette and additional talking puppets inspired by the Dada-dolls of Hannah Hoech, aesthetics of the group Mavo and Metropolis Movie. For Artist Tomomi Adachi, Museum Hamburger Bahnhof, Berlin 2018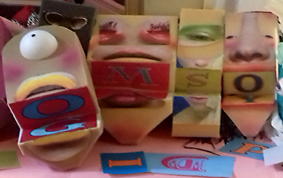 MAVOtek is a series of performances, started in 2012, by Japanese performer and composer Tomomi Adachi. It is dedicated to the Japanese Dada movement group MAVO which was led by Tomoyoshi Murayama in the 1920s.
The performance by Adachi, the puppet artist Breeda CC, dance artist Kareth Schaffer and additional performers largely develops out of the man-machine aesthetics of the 1920s, a culmination of the avant-garde in the eras of Taisho democracy in Japan and Weimar culture in Germany and also a harbinger of the body politics in the Fascist regimes in both Japan and Germany.
In 1922, Murayama spent one year in Berlin and encountered many artists from the European avant-garde. One section of the Hello World exhibition in Hamburger Bahnhof Berlin is dedicated to the ties between the artists connected to the gallery and magazine Der Sturm and the MAVO group and magazine in Tokyo.Part four of the series focuses on the German dancer Niddy Impekoven who inspired Murayama in his commitment to feminine performance art, and a possible meeting between Murayama and Hannah Höch whose Dada dolls helped form Murayama's Conscious Constructivism.Tomomi Adachi is a performer and composer, sound poet, instrument builder and visual artist. Known for his versatile style that spans from voice and electronics pieces to sound poetry, improvised music and contemporary music, he has also presented site-specific compositions, compositions for classical ensembles and choir pieces for untrained musicians all over the world.He has been working with a wide range of materials; self-made physical interfaces and instruments, brainwave, artificial satellite, twitter texts, 3D printer, fracture and even paranormal phenomenas. He was a guest of the Artists-in-Berlin Program of the DAAD in 2012.
MAVOtek ist eine Reihe von Performances, die der japanische Künstler und Komponist Tomomi Adachi im Jahr 2012 begonnen hat. Sie ist der japanischen Dada-Gruppe MAVO gewidmet, die in den 1920er Jahren maßgeblich von Tomoyoshi Murayama geprägt wurde. 1922 verbrachte Murayama ein Jahr in Berlin und kam mit vielen Künstlern der europäischen Avantgarde in Berührung. Ein Teil der Ausstellung Hello World ist den Verbindungen zwischen den Künstlern um die Galerie und Zeitschrift Der Sturm, sowie denen der Gruppe und Zeitschrift MAVO in Tokio gewidmet.
Im Mittelpunkt des nunmehr vierten Teils der Reihe stehen die deutsche Tänzerin Niddy Impekoven, die Murayama zu seinem Engagement für eine feminine Performancekunst inspirierte, sowie eine mögliche Begegnung zwischen Murayama und Hannah Höch, deren Dada-Puppen einen großen Einfluss auf Murayamas Entwicklung des Bewussten Konstruktionismus hatten.
Die Performance wurde von Adachi, der Puppenkünstlerin Breeda CC und der Tänzerin und Choreografin Kareth Schaffer in Zusammenarbeit mit weiteren Darsteller*innen entwickelt, inspiriert von der Mensch-Maschinen-Ästhetik der 1920er Jahre. In dieser Ästhetik kulminierten Strömungen der Avantgarden in der japanischen Taishō-Demokratie wie in der Kultur der Weimarer Republik. Zugleich konnte sie als Vorbote der Körperpolitiken der faschistischen Regime in Japan und Deutschland gesehen werden.